Welcome to City Sightseeing Oxford
Our city tour lasts approximately 1 hour and gives you the best sights and historical insight into our beautiful city.
Our kids commentary is suitable for kids of ALL ages.
Buy your tickets online or just pay the driver / sales staff on the day. Tickets are valid for 24 or 48 hours on our buses and you can get on and off at any of the 20 stops on the tour – keep a hold of your ticket for reboarding!
---
The Oxford Sightseeing Walking Tour
A 30-minute "Stepping Through Oxford" Walking Tour is included in the price of the Open Top tour ticket (subject to availability). It can also be bought as a standalone tour at £6.00 for adults and £3.50 for children. Tours leave Stop 8 every 30 mins between 11:00 and 15:00 hrs. Due to popularity, we unfortunately cannot guarantee availability on any specific tour.
If you choose not to take the walk, the bus will continue on our normal route and a recorded commentary will be available in the Guide's absence.
Find out more about our Walking Tours.
---
For more about the tour please see our Explore the tour page or download our Map.
For key tour information available in other languages, download our translation sheet.
---
Getting to your City Sightseeing tours in Oxford
Oxford is well connected by road and rail to major cities including London. The best way to get to Oxford city centre is by public transport.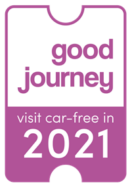 We're proud to hold the Good Journey Mark for welcoming car-free visitors.
To find out how to get to City Sightseeing tours in Oxford, visit our Getting Here page.

enjoyEngland.com Quality Assured Visitor Attraction Certified

Incorporating Guide Friday Quality Assured Visitor Attraction Certified